We are delighted to welcome chiropractor Aaron Coode (BSc, MSc, DC, DNS Sport) to our team. Aaron will be offering chiropractor services at our clinic in Christchurch, Dorset.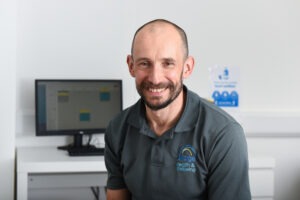 Aaron brings with him two decades of clinical experience and a special interest in spinal rehabilitation, sport and gait-related injuries.
Alongside treating patients, Aaron currently lectures undergraduate and postgraduate students at AECC University College. He teaches chiropractic, clinical reasoning and exercise science and rehabilitation in a clinical setting. He also lectures internationally on spinal rehabilitation, gait, western medical acupuncture and Instrument-assisted soft tissue therapy.
Having worked in professional sport for the last decade, Aaron currently looks after the footballers at Southampton Football Club. He has also worked with professional cyclists and triathletes. In his treatment, he uses a wide range of manual therapies. These include spinal manipulation, soft tissue mobilisation, western medical acupuncture and rehabilitation. As a keen advocate of evidence-informed, patient-centred care, Aaron helps patients to reach their goals and live pain-free.
"When we opened Bridge Health & Wellbeing our aim was to bring together the best clinicians and instructors under one roof for the wellbeing of our local community. We are thrilled that Aaron is joining our team. Not only does he bring a wealth of clinical experience, but he also shares our ethos of patient care."

Paul O'Connell, co-founder and physiotherapist at Bridge Health & Wellbeing
What is chiropractic?
According to the British Chiropractic Association, Chiropractic is a primary healthcare profession. It specialises in the diagnosis, treatment and management of musculoskeletal conditions that are due to mechanical dysfunction of the joints and muscles, particularly of the neck and back.
Chiropractors use a range of techniques to reduce pain, improve function and increase mobility. These include hands-on manipulation of the spine. As well as manual treatment, chiropractors are able to offer a package of care. This care includes advice on self-help, therapeutic exercises and lifestyle changes.
Chiropractic treatment involves safe, often gentle, specific spinal manipulation. This is designed to free joints in the spine or other areas of the body that are not moving properly. Chiropractors may also use a variety of techniques, including ice, heat, ultrasound, exercise and acupuncture, as well as advice about posture and lifestyle.
If you are suffering from pain, a lack of function or mobility, then please get in touch. Call our friendly team of wellbeing experts on 01202 473800 or book your chiropractor appointment in Christchurch, Dorset online today.