Health & Wellbeing services
Treatment : Rehabilitation : Wellbeing
Integrated care for your mind and body
Looking after your health is a lifelong process. At Bridge Health & Wellbeing in Christchurch Dorset, our unique space means that the services you need are all interconnected. You can move easily from assessment and initial care (such as Physiotherapy Treatment) to a longer-term recovery plan (Rehabilitation classes), or ongoing therapies to build strength and prevent injury (Wellbeing activities including Pilates and yoga).
Whatever brings you to us at Bridge Health & Wellbeing, we'll make sure you get the right help and support.
Many people will choose to have their symptoms or injuries assessed by our expert clinicians, then go on to a tailored treatment plan or a therapy course.
Others will just want to improve their fitness and keep healthy. We have a whole range of group exercise classes in Pilates and yoga to suit every age and ability, or focused one-to-one tuition if you need it. People can come for one service and then stay on for another.
We have a multi-disciplinary team, so of all our services are interlinked. That's what makes us different. We provide a one-stop health hub for anyone who wants to feel better in mind and body, right here in the heart of Christchurch, Dorset.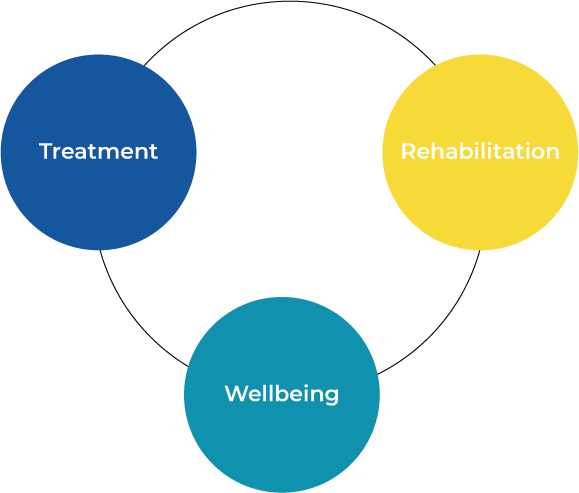 Not sure where to start?
If you're new to the world of gyms and studios, they can seem a little intimidating. Don't worry! Bridge Health & Wellbeing is a friendly, family-run health centre, which has been designed to allow everything to be as accessible as possible. People often come to us for one-off treatments or rehab work but end up joining our ongoing exercise classes and therapies. Come and join us for a beginner's Pilates class or book in for a Physiotherapy appointment. Let us show you the ropes with a quick tour of our bespoke facilities. We'll be very happy to show you how everything works and discover how you can feel better in both mind and body.