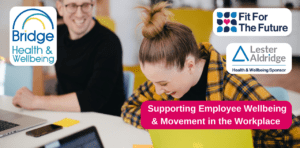 We are delighted to be hosting a live, in-person seminar on Wednesday 23rd November on Supporting Employee Wellbeing & Movement in the Workplace.
Working in conjunction with Dorset Chamber, we are committed to helping businesses provide health and wellbeing support to their employees. In this free-to-Chamber-members event, we are offering a half-hour Introduction to Pilates taster session, followed by an hour-long seminar. The informative seminar will cover:
why physical exercise is vital to our wellbeing
the importance of good posture when desk working
the responsibilities of employers to ensure the wellbeing of staff in the workplace
The taster Pilates session is open to 8 participants on a first come first served basis, and can be booked here:
https://dorsetchamber.co.uk/event/pilates-taster-session/
If you are coming along, don't forget to wear comfortable clothing that you can easily stretch in.
The seminar session is open to a further 12 participants, which can be booked here:
https://dorsetchamber.co.uk/event/supporting-employee-wellbeing-movement-in-the-workplace/
If you would like to book both sessions, please make sure you book both events on the Dorset Chamber website.
The whole event will take place from 12.00 – 13.45 on Wednesday 23rd November at our state-of-the-art clinic on Bridge Street, Christchurch. Spaces are limited so book early to avoid disappointment. We look forward to seeing you.
If you can't attend the event or are not a Dorset Chamber member but would still like to find out more about Employee Wellbeing, please have a look at the information on our website and give us a call on 01202 473800 or email info@bridgehw.com. We would be delighted to meet with you and discuss how we can help you get the best from your people.