Whiplash describes the mechanism of injury that occurs as a result of a sudden acceleration and deceleration movement, like in a car accident. Clinically, we use the term Whiplash Associated Disorder (WAD). This also covers the symptoms you can experience because of a whiplash injury.
How does whiplash happen?
If you are travelling at speed and stop very suddenly, especially if you aren't expecting it, you may experience a whiplash-type injury. When the impact is made, your neck and head move backwards and forward very quickly. At times, this happens very violently, and all the time, your body is trying to react. If the forces involved are more than the soft tissues and skeleton can tolerate, then you are at risk of injury.
Whiplash Associated Disorders (WAD)
The Quebec Task Force classifies WAD as follows:
Grade 1 – the patient complains of neck pain, stiffness, or tenderness with no positive findings on clinical examination
Grade 2 – the patient exhibits musculoskeletal signs and symptoms including decreased range of motion and point tenderness
Grade 3 – the patient also shows neurological signs that may include sensory deficits, decreased deep tendon reflexes and muscle weakness
Grade 4 – the patients shows a fracture
How do you treat whiplash?
As with most health conditions, the most important thing is getting an assessment and appropriate treatment as soon as possible. If the accident is significant and high speeds are involved, it is sometimes wise to visit A&E. There, they can assess you and rule out anything serious like a fracture.
Once you attend physiotherapy, we will always carry out a very thorough examination and assessment. Treatment usually involves some hands-on techniques which can reduce pain and increase your range of motion. We will then work on a progressive set of exercises. These exercises will work on your range of motion. They will also focus on your strength and control around your neck, shoulders and upper back.
With correct, early intervention, there should be no reason why you can't make a full recovery from a whiplash injury.
To speak to our physiotherapist Paul or book a physiotherapy consultation at our health and wellness centre on Bridge Street in Christchurch, Dorset, please contact us at 01202 473800 or email info@bridgehw.com.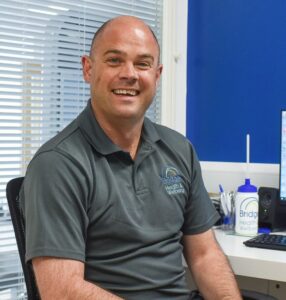 Paul O'Connell (MSC, BSC, HCPC, MCSP) is a physiotherapist with two decades of clinical expertise. He has worked right across the UK, from North Yorkshire and London to Hampshire and Dorset. Sports medicine is one of his areas of special interest. He has worked both on the touchline and in sports injuries clinics. Now, he lectures on the Sports Therapy programme at Bournemouth University. Having spent several years managing physiotherapy and health assessment teams in two key Nuffield Health hospitals, Paul also has extensive understanding of orthopaedic surgery.