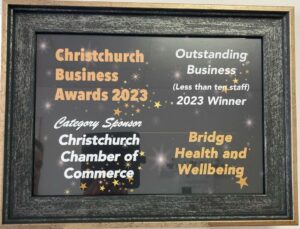 Exciting news! We are very excited and extremely proud to have been crowned Outstanding Business of the Year at the Christchurch Business Awards 2023.
Organised by Marketing West Events, the Christchurch Business Awards celebrate the best local businesses across Christchurch. 14 awards were presented at the lunchtime event at Hoburne Park, in categories ranging from best place to work to retail business of the year.
Nigel Reeve, Director at Marketing West Events, said over 150 entries were received for the 2023 awards.
"Local businesses are the backbone of the UK economy. The winners today are stars because they create local employment, innovate and adapt, care about their customers and boost the local economy."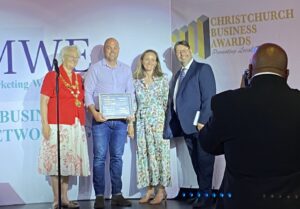 The judges praised Bridge Health & Wellbeing for becoming a firm fixture in Christchurch in a short time. We started as just a husband and wife team of two in 2019 and have grown to become a team of 15 clinicians, wellbeing class teachers and receptionists, with an expanding range of services. The judges said we were "a fine example of following your dreams and starting your own businesses because you believe in what you do and what you want to achieve," and noted that the local community had nothing but praise for us, which is so lovely to hear. Thank you to all of you who nominated us. Winning awards like this makes all the hard work really mean something.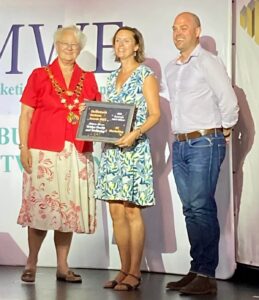 As sponsors, we had the pleasure of awarding the B2B Business award to Caroline Saunders of 4 C Marketing. Judges were impressed by the knowledge, creativity and flexibility of the business, which has become a well-established part of the Christchurch business community and celebrates its tenth anniversary this year. According to the judges, 4 C Marketing is "a great example of a successful B2B business building a trusting bond between themselves and their clients through personal service." We couldn't agree more!
At Bridge Health & Wellbeing, we work with several local businesses across Christchurch, Bournemouth and Poole to keep their employees healthy so they can give their best at work. Our workplace wellbeing services include fast access to physiotherapy, chiropractic and sports massage treatment, rehabilitation and wellbeing classes and DSE assessments.
To find out more, call our friendly team on 01202 473800 or email info@bridgehw.com.
Congratulations to all the winners!